Nurture your body, mind and soul
Awana Spa is the first of its kind, complete with personalized treatments, immersive facilities and approachable wellness offerings. The modern, yet warm space draws upon the principles of the golden ratio with rounded rooms, curved walls and highly thought out designs to promote a transformative and holistic experience. Guests can choose from a variety of treatments inspired by European and Eastern rituals with a unique social approach.
A unique offering of the spa includes a Sauna-Meister-led journey that enhances your visit as they direct hot and scented steam towards you through the rhythmical movements of a towel.
For reservations call: 702-676-7021
Must be 18 years or older to enjoy the spa.
Purchase your gift card here.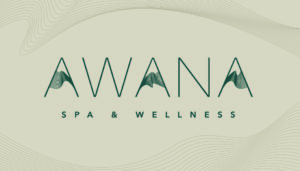 Spa
Nurture your body, mind and soul
Virtual Tour
---
Hours of operation
DAILY | 9:00 AM - 7:00 PM
Contact
Phone: 702-676-7021
Illuminating Vitamin C Facial
60 min

$250 Tues-Wed  |  $275 Thurs-Mon

With ingredients derived from the Thermal Healing waters in Budapest, his premium smoothing and brightening treatment helps to revitalize dull skin and repair damage with antioxidant rich Vitamin C. 

A highlight to this facial is the exfoliating Copper treatment that includes blue copper and lactic acid, designed to reduce pore size and detoxify, resulting in a more even skin tone. Finishing with the Illuminating Moisturizer, which contains Ruby Crystal, your skin will be glowing from the inside out.
Yes, the Fountain of Youth has four Vitality Pools (ranging from hot to a cold plunge), heated Tepidarium chairs, a Crystal Laconium with salt therapy, an Event Sauna, and our Foot Spa Lounge.
It is a three-hour passport that allows the guest to experience all of the facilities and amenities in the Spa, creating their own journey.
Yes, walk-ins are allowed, but are based on availability.  We highly encourage reservations, especially on weekends.
Yes, you are welcome at Awana Spa through either scheduled service, or a Fountain of Youth Passport.
Awana Spa is located on the 2nd Level of Resorts World.  From Guest Rooms elevators, there is signage on the 2nd Level.  From the Casino, take the escalators up to the 2nd Level, turn left at the top and follow the signage to Awana Spa.
Please advise our team of any allergies or medical conditions.  This can be advised during the reservation process, and again with your Therapist prior to beginning your service.
Please notify Awana Spa at least 24 hours prior to appointment time if you need to cancel or reschedule to avoid a full treatment fee.
To maximize the benefits of your facial, please avoid the following at least 24 hours prior to your service: use of exfoliating products, spending a lot of time in the sun, waxing any areas of your face, or having any treatments such as Botox, fillers or peels.